Little Corn Island trip – Day 3
Slept in till around 7:30 or so. Breakfast at the hotel and then getting ready for diving.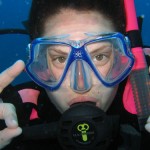 Carolyn's first open water dives today and our first dives on little corn. Our first dive was out to Stanley's Reef, shallow dive, (as were both dives today, max depth 41 and 30 feet respectively).  Had an issue with my underwater flash, it looks like the little slave flooded and is toast. I was able to come up with a work around, but it may need a little tweaking before I am really happy. First dive we saw a sting ray with a fish that was hitching a ride along top. The second dive was a mix of different fish, puffers, small sting ray, conch and of course some lobster. Carolyn had her fun dive the first dive of the day and started doing her skills on the second dive, and the lucky duck got to see a Nurse shark!     Meghan and I were so jealous. Maybe tomorrow we will get to see one. Once we were back at the dive shop I noticed my housing had a bit of water in it. I guess I had a small leak, no damage to the camera, or housing. Washed it out and it should be good to go tomorrow.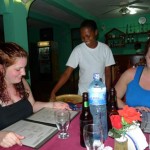 Dinner tonight was at the Lobster Inn, yep we all had lobster. In the middle of dinner the power went out and we sat in the pitch dark for a few minutes. Meghan had her flashlight with her so we used that as our table light. After dinner we went back to our hotel in search of ice cream – it's on the menu, but they did not have any. They recommended the Oasis down the road, so we went off in search of it, but did get a little side tracked as Meghan wanted to pick up and look at lighting bugs.  The Oasis was also out of ice cream, so back to our hotel, but this time we had a pina colita. Meghan go the short end of the stick because hers had bits of mulched up plastic in it, but she did not have enough Spanish to get across to the server that she wanted a new drink. Oh well, chalk it up to just being part of the adventure.
Tomorrow we dive early @ 8:30, so we are getting up and meeting @ 7:00 to go for breakfast. So off to bed now, at the late hour of 8:30, were party animals.