Little Corn Island trip – Day 4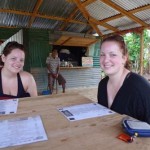 Started out for breakfast @ 7 am and was told to try Rosies. We ended up at the wrong place. We were at Casona's. Mistake. Live and learn. The girls liked the pancakes, but the eggs, bread and Goyia pinto was not for me.
Got breakfast done with and were off to the dive shop. First dive of the day was to Jake's Place. Nice dive,  some bicolor damselfish, a few Atlantic Spade fish and tons of Squirrel fish. After a brief (30 min) break when we were back at the dive shop it was on to the second dive of the day, and Carolyn's last certification dive. This dive was called Turtle Rock –although we did not see any turtles!  We did see a Sting Ray hiding in the sand, some grey angel fish and a huge 3.5-4 foot grouper. This was a fairly shallow dive with lots of bottom time. (63 min) We saw lots of fish and nice coral.
Back on land we changed and headed to Casa Iguana for lunch. They may not have air-conditioning and electricity in their rooms, but they have the million dollar view. It is what you think of when you think Caribbean island, breaking waves, azure blue water and hot sunny weather.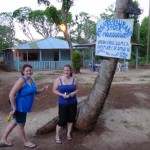 For dinner we went to Rosa's which is in the middle of the jungle. Interesting ambiance, the food however was really good. I think we are going to go back there for breakfast in the morning.
After dinner, Carolyn and Meghan headed to the east side of the island in search of the moon; they both had flashlights. I headed home, I forgot my flashlight. So for the darkest part of the walk and believe me the jungle is dark at night, really really dark. I ended up using the focus assist light on my digital camera to help guide the way.
It was only about 100 meters, but it was like pitch, it's amazing what a little bit of light can do to help guide the way.