Little Corn Island trip – Day 2
The day started out by having the power shut off at 5:00 AM. So it was an early morning. Found out later that is the usual time. I will have to adjust my sleep schedule accordingly.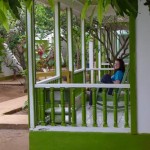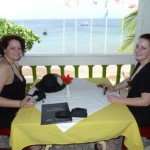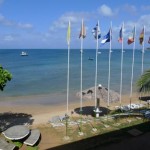 Had breakfast at the hotel, we all had French toast, which was really good, but tasted a bit like bananas. We are thinking that it might have been banana bread it was made with, different but really good. The coffee was excellent, something to look forwarded to with breakfast. Six bucks for breakfast, including coffee, pretty good deal.
We headed back to our rooms and gathered all of our cash, wallets, passports etc and put them in the office for safe keeping. Not really sure we needed to do that, but much better safe than sorry.
We got all of or snorkel gear and beach stuff and headed off to the other side of the island. With a short pit stop at the dive shop first, to fill out all of our forms and paperwork so we can start diving tomorrow.
We found a beach spot just beside the Casa Iguana beach area and set up our towels and hit the water. Meghan and I went off to do some snorkeling; it was a tad rough and not much to see. Near the reef it was much too rough and far out to try out today.
On our way back, we headed up to Casa Iguana and made reservations for dinner tonight then trekked across the island (all of about 10 min walk) and showered and changed for lunch. After walking the main drag a bit we settled on the Sunshine Hotel, only to find out the restaurant was not open. They were kind enough to recommend Brigetts, which we would not have give a second look at on our first day!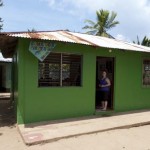 It was a pleasant surprise. Meghan had the shrimp and Carolyn and I had our second lobster dinner. (There is no menu, just a choice of fish, lobster, shrimp or chicken) All of the dishes are served with rice, coleslaw, fried plantains. For two lobster tails, the whole meal was $8. ($9 with the coke) Good eats at a good price.
On the way back to the hotel we picked up some essentials, 2 4L bottles of water, some deodorant for Meghan, whose exploded in her bag on the way down, and some cookies for snacking on later.
Meghan and Carolyn took off to the beach to do some more snorkeling and Steve took off to his room to do some more sleeping!
Meghan woke me up at about 5 pm armed with a beer and the promise of Oreo cookies at their place; I was up in a flash. Once down to the girls place I got to see firsthand how Meghan had underestimated her application of sun screen. Too much time in the water and the sun did not feel that hot today because of the nice off shore breeze. Note to self, apply more sunscreen, even if you think you don't need it!
I finished my beer and was about to take a photo of this red plant and I knocked the beer off the ledge where it smashed to the ground and cut Meghan's foot. It was bleeding a lot, and we only had toilet paper to absorb the blood.
Fortunately their neighbors, 4 women from Finland, travel prepared and offered antiseptic and a Band-Aid. (I'll never give Cathy a hard time about all the medical stuff she brings with her.) Carolyn and I went on a quest to get more Band-Aids and were not so successful. We were able to get some from the dive shop, so Meghan was forced to wear socks and runners to dinner. She was not impressed.
On our way to Casa Iguana for dinner we found a little place where we were able to buy some more Band-Aids so Meghan can clean and tend to her foot. I am hoping it will not impair here diving.
Dinner at Casa Iguana tonight was salad, red snapper, rice and the most amazing carrots, followed up by some coconut cake with rum sauce. The food was great, the walk to and from in the dark had the girls a little worried about spiders after we saw a huge one during the day today on the same trail. All we saw tonight was lighting bugs and land crabs. Not very scarry.
Back in the room now and ready for bed, two dives tomorrow, looking forward to it!