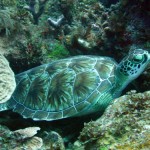 The other group of divers that is here went off to blowing rock today. That is a dive site that is about 1 hour away by boat.  We opted to do this dive on Monday, hoping the water will be a bit calmer.
Our first dive today was a repeat of one of the dive sites we have already been to, the only difference is we were in their other boat and Carl was our dive master. (I think he likes Carolyn, a bit of flirting going on their) The dive itself was ok, saw a turtle.
The second dive was called the Tunnels. Way cool. Coral tunnel that goes about 100 to 150 meters, with openings every 10 feet or so to let light in. Very pretty dive. We  saw a nurse shark, our first reef shark and a French Angel fish. Shallow dive, but very pretty. Would be much nicer with better vis and less surge, but overall one of our favorites.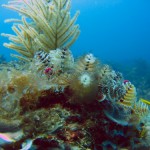 We were getting all set up to go out for our night dive and I had to bail on them. Not feeling that well, and did not want to take the risk of diving with an upset stomach or going on the boat and being sick. I am disappointed that I won't be there for Carolyn's first night dive or our first night dive here.
Meghan and Carolyn enjoyed their night dive. Meghan saw TWO smooth trunk fish, two of them. She was very excited. Much more excited than Carolyn. Of course Meghan thinks this is the coolest fish in the whole world. They also saw some very large lobster, some weird sea cucumbers and some parrot fish that were not sleeping yet.  The bioluminescence was not very pronounced as there was a fairly bright moon out tonight.
I headed off to bed, 2 gravol and water, Meghan and Carolyn headed for the bar to meet up with Carl and Adam from the dive shop. They went down to the Sunshine Hotel, apparently they have new pool tables and Carl and Adam wanted to try them out. Apparently it was Adam and Carolyn VS Carl and Meghan.  Meghan says that no one in particular were very good pool players, but her team won.
Tomorrow we are going to skip the first dive and do the second and third dive. A chance to sleep in a bit!