Mexico – Day 9 – Chichen Itza
Well the report on the "Broadway" show from last night was very favorable. Seems like everyone liked it. Although not everyone knew all the songs – I'll let you guess who that was. Vance and Ted.
We were up early today to catch the bus to Chichen Itza. It left the hotel at 7:15 am and we were told it is about a 12-hour day. So we were prepared with a bag lunch, (which was going to be our breakfast) and we had our bathing suits on and a change of close with us. We needed these because we were going to stop at a Cenote on the way to Chichen Itza for a swim.  The cenote was called Ik Kil cenote and was wonderful. The high calcium content of the water makes your hair very very soft.
Lunch was next and it was at a Mexican buffet with some local dancers for entertainment. It was good, short but good; we were only there for about 45 min.
Our tour guide, Martin, was a hoot. He made the bus ride a joy. Very funny and extremely knowledgeable too boot. Vangie was sitting right behind Martin so she was the burnt of many of his jokes.
Once we got to Chichen Itza we had a tour with Martin for about 1 hour and 40 minutes.  He is and excellent guide who was able to bring humor to many of the historical areas of the site. The
biggest disappointment is the vast number of vendors in the park. It really took away from what could have been a magical experience and made it very plain.  And there were hundreds of vendors. You could not walk from one area to another without vendors on both sides of the path.
The main pyramid is awe-inspiring. Although it is only about 90 feet tall, the technical achievements of the Myan people are to be admired. The building is exactly 17 degrees off from magnetic north, and on the equinox the sun lines up perfectly with the top of the pyramid and flows through the upper chamber and lights the stairs on the shadow side of the pyramid, creating a snake like effect.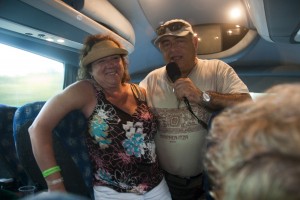 After Martin's tour we had another hour and ten minutes to look around. Cathy, Vangie and Simone looked and souvenirs and we wandered around looking at some of the other ruins.  Time to get back on the bus.
The ride home was a bit faster as they took the highway the whole way back to town. Martin entertained us and he was able to talk Simon into standing up and giving a short rendition of Feliz Navidad; it was quite funny.
We arrived back at the hotel at 7:15 exactly 12 hours from when we left. We located Vance and then went to our respective rooms for a quick shower before dinner.  Dinner, drinks and off to bed. Tomorrow some hard-core beach/pool time and maybe going for a sail on one of the Catamarans.