Mexico Day 7 – It's hammerhead time!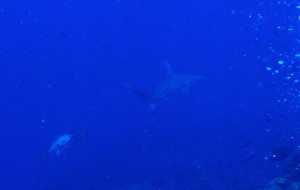 Up really early today (5:45) to get to the ferry to go to Cozumel.  Cathy called the hotel concierge today and arranged for bagged lunches to take with us. We were not planning on having it for lunch, but breakfast as the restaurant is not open here till 7 am.
After a quick coffee, we were off to the ferry, only to discover that the first ferry of the day does not leave till 8am., which is Ok as our dive boat did not leave till 9am.
Once we got to Cozumel we were able to find the dive shop Ok and we headed off to the dive boat.
This is where Meghan is going to hate me. Our first dive we saw a Turtle, some huge Nassau groupers, a barracuda a huge crab and……… an 8 foot hammerhead shark.  Which was so so so cool. Our dive master said in 12 years it is only the 2nd one he has ever seen and never heard of one so shallow, about 40 feet.  There was a woman who was diving with our boat and was with another dive master and she did NOT like the idea of being the water with a shark, she got out and did not do any ore dive for the day. I can see why people like to dive here, lots of big fish and big coral; very pretty.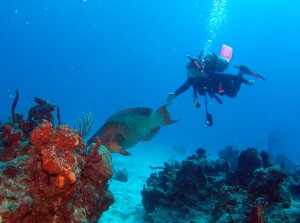 Our second dive we saw the largest parrotfish I have every seen. He must have been close to 3 feet long. We saw a snowflake moray eel, a large lobster, black dungeons, Christmas tree worms, but alas, no splendid toadfish.  We were looking, and had our dive master looking but no luck. I guess that means we will have to come back and look again.
We ended up having lunch at the Hard Rock Café in Cozumel and then catching the ferry back to the mainland. Ted had to go visit Hector's Moms shop. (A place that was recommended to him by a friend) Today it was open so he was able to take a look around, but he did not meet Hector's Mom, but Hector's Dad.
Once back at the resort I cleaned the scuba gear and Simone, Ted and Cathy went for a swim. It was a short one as it was late in the day and the sun was almost down. We all had a nap (not together, that would be weird) and then went for dinner. (Together, that's normal)
The Internet here is being flakey in the room, so I have to go to the hotel lobby to do the posting. So it may not be regular. Sorry about that.
Vance and Vangie arrive tomorrow, we are looking forward to that. Then Saturday off to Chitzen Itza.