Mexico Day 6 – More hanging at the pool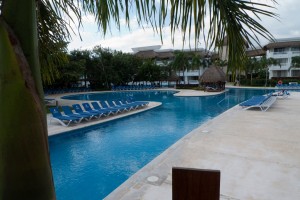 We kind of had a late start today, we all decided to sleep in a bit and get going a little later – after all, we are on holidays.
Our mission to day was to try another pool. We selected the one that is "close" to the party pool but far enough away that the party does not spill over, but the music does.  One of the drawbacks about this pool is it has no bar.  Cathy and Ted decided to go get a drink at the closest bar; there are two routes to this bar, so Ted had to time them to see which one is faster so he could have the most economic retrieval time for new beverages. 1 minute 41 seconds was the best time, using the offbeat route. I think it was just shortly after this that we discovered this pool has pool side service so you don't even have to go to the bar.
We decided to say screw it to the dive shop I was trying to book though (Scuba Du Cozumel – don't go there!) and called the dive place Ron went to last spring. Deep Blue should have been our first call. Within one call we were all set up to dive/snorkel on Thursday. That meant we would have to go to bed early tonight, as we had to be down at the ferry dock by 7am.
We have also discovered that we need to book later dinners. Eating at 6 or 6:30 is just way to early and we are not even hungry when we show up for dinner.  I think we need to do way less drinking eat a smaller lunch so we are hungrier at dinner. Last night we ate at the Mexican restaurant and none of us could finish our whole meal – what a waste.
Tonight we ate at the Seafood restaurant, and at least we were hungry for dinner. The food at the restaurants is excellent, and the seafood place was really really good.  We'll have to do that one again.