Mexico Day 5 – Hanging at the pool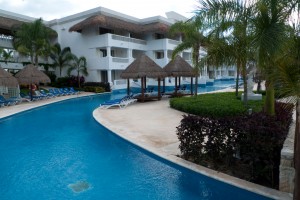 Today was more of the same, except we stayed at the pools today.
Nothing exciting really happened, except that we decided that one of the bartenders in one of the pools does not like us. He kept serving other guests and ignoring us. That may be because we are polite Canadians and did not scream and shout to get his attention. All the same, we switch pools.
I also contacted the dive shop in Cozumel (Scuba Du Cozumel) about diving tomorrow. (Actually I sent them an email yesterday, but I still have not heard back from them.) After sending another email in the morning and then a phone call in mid afternoon and still not hearing back from them, we decided to put off diving/snorkeling until Thursday.