Mexico – Day 4, Life at the beach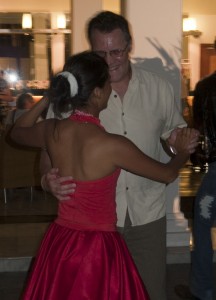 Up and off the beach; we started there and did some snorkeling on the beach. Â I went off to the pool to do some reading and floating. Cathy, Simone and Ted came up to the pool about an hour later. Apparently I missed the topless women on the beach, (they were right behind us) Ted gave me all the details.
The beach here is very nice, the sand is fine white sand that is very soft on the feet. You do have to use some sort of footwear to go into the ocean though as some of the area has rocks just into the water.
After dinner we headed off to the courtyard bar and had a drink while we waited for the nightly show. Tonight was "Grease" and some of the actors came into the bar to get things going. Getting people out on to the dance floor. The other day Simone had her baby time; tonight Ted got is babe time. (And Cathy got her hunk time)
The show it self was high energy, lots of dancing and all lip sync, but fun just the same.