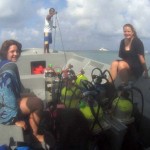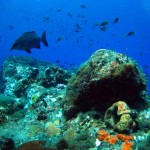 Up extra early today as the boat leaves at 8:00 for Blowing Rock. It is about an hour boat ride to the dive site. It is suppose to be the best dive on the island(s).
The second dive was much of the same for the first half of the dive. Lots of fish; near the end of the dive we saw a Caribbean reef shark, a logger head turtle, an eagle ray it was very very cool If you go to Big or Little Corn Island this is a must do dive. One of the best dives sites I have ever done.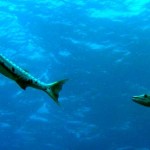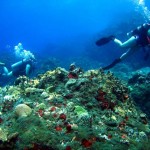 The ride out was ok, a little choppy but not too bad. The first dive was amazing. Lots and lots of fish, nurse sharks and an eagle ray, a bit of current, but overall a spectacular dive.
The boat ride back was rougher than the one out. Very bumpy, but well worth it!
We went back to the Oasis for lunch, Meghan and I had hamburgers and Carolyn had a couple of Hot dogs. The food was good, not excellent, but good. We then walked down to the Cuban restaurant and reserved our table for dinner tonight.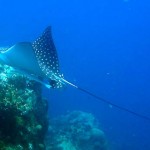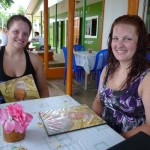 Carolyn and I had to then look after the unpleasant stuff, paying for the rooms and diving. We ended up spending more money on diving than we planned, but it was balanced out, the rooms were cheaper than we planned. So it is all good. Funny how Meghan and I came down here all stoked to dive and the person who did the most dives was Carolyn!
Our last dinner was at the Cuban restaurant and it was excellent. Meghan and I had beef, which was the most tender I have ever tasted and Carolyn had…… Lobster, which was also excellent.
Tomorrow we are up early and off to catch the panga for Big Corn Island.