Little Corn to Big Corn – Day 14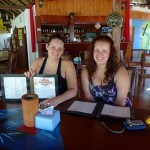 We were up early and were the first on the dock for the Panga to Big Corn Island. I came prepared this time with garbage bags for our carryon luggage so they would not get wet. Our trip to Little Corn Island was a total shower. We were dripping wet when we go off the boat and much of our luggage was wet too. (The carryon luggage was "fairly" dry)Â  This time the trip was almost smooth with very little water getting us wet! It was a very nice change.
We had talked to Adam at the Dolphin Dive and asked about places to stay once we were on Big Corn. He recommended the Paraiso Club or Casa Canada. We looked both up on the web and Casa Canada was a bit more money and the Paraiso Club officered free wifi, so we picked it.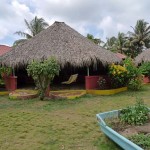 Once we got to the dock on Big Corn Island there were lots of folks wanting to give us a hand. We picked a cab driver, who turned out to be the same driver who picked us up at the airport when we came in. We told him where we wanted to go and he asked if we had reservations, (we did not) and he wanted to "recommend" some other places. We declined and told him if they did not have space we would get him to take us to Casa Canada. Once we arrived at the Paraiso Club and inquired, they did have rooms, so we were all set.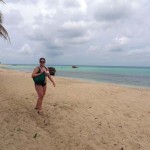 What we did not know about this resort/hotel is that it is an eclectic mix of a Nicaraguan resort, with Polynesian cabanas, Dutch keychains and a pirate themed bar, oh yea; the main house is a colonial style. I am not sure how you would describe the theme, but it is on the beach, has power, water and air. So we were happy. Once we had checked in we found out it also includes a continental breakfast and a fee cab ride to the airport. We're set.
We grabbed breakfast and decided to do our internet stuff right away. Great plan, except the internet was down. So Steve went back to his room to write and do photos while Carolyn and Meghan wanted to "even out" their diver tan – so they were off to the beach.
The rest of the day was spent lying around, napping and reading.