Mexico Day 2 – at the pool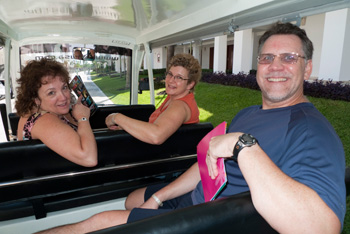 Up early for breakfast today; actually had to set the alarm. We wanted to get something to eat before going to our "orientation" session. We miss timed I a bit and were finished breakfast early, so Cathy and Simone went to the hotel jewelry store to do some window-shopping. Ted and I were not that worried as the cash and credit cards were back in the room. J
This young English guy hosted the orientation; he was pretty funny and we were able to learn a few things about the hotel, so it was worth it.
After the orientation we headed to the hotel's bus stop. Ok they are not busses but just 8-10 seat golf carts, but still, this place is pretty huge and the walk from our room to the beach would be about 10 min. We go to check out where some of the stuff was.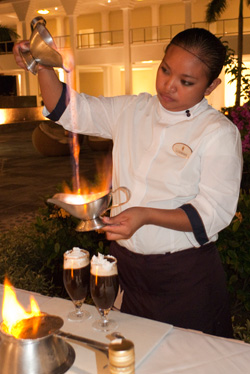 Although our room is a distance from the beach, we think it is a pretty good location, close to most of the restaurants and near the theater where the entertainment is each night. Our room is also close to the 24-hour sports bar, which also serves snacks, so that is a good thing too. If we have too much to drink, we will (probably) still be able to find our way home.
Once the bus tour was over, we headed to our room for a quick change and were off to the pool. We found the towel hut and Ted and Simone ended up with 4 towels for some reason, but that may be good in the long run.
We scoped out the pools and pool bars, (there are at least 3 pool bars that we have found) we found 4 loungers and headed for the bar. (Just to stay hydrated you know, it's hot here) After about 30 min in that pool we decided to try the one next door, really about 20-30 feet away. The first pool had LOTS of kids in it, which was not conducive to reading in the pool. The other pool was much quieter and still had a swim up bar.  Win win.
I got to say though that getting out of one of the pools, where the water was only one foot deep, can be tricky. The pool deck is slippery. I got one foot out and was getting my other foot out and slipped, fell back into the pool and landed on my butt. For a bone that is totally useless, when you land on your coccyx it really hurts.
Lunch was at one of the buffet restaurants we had not been to yet, it was nice because it is close to the pool (right beside it actually) and it is ok to go in with a t-shirt and towel rapped around you.
After lunch it was another round of pooling and reading.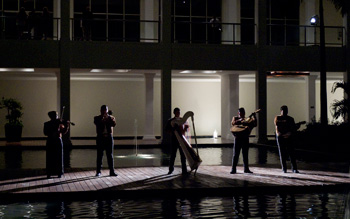 I headed back to our room around 3 for a nap only to find out our rooms had not been made up yet. So sat around waiting for that to happen. Won't let that happen again, I am going to request our rooms get made up earlier in the day. They did not get to us until almost 5 pm. It really cut into the naptime.
We started off at the outdoor bar between two of the restaurants, really nice, live music and more special coffees. Then we went for dinner, (got to get up tomorrow and make our ala carte reservations!)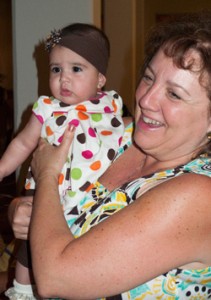 After dinner we headed to the same bar and watched some of the nightly entertainment. Tonight was a mariachi band playing and some folks dressed in authentic Mexican attire.  This is just the warm up for the "big" show. While we were there, Simone spotted a little baby that she HAD to go hold. I think the parents were thinking loco Canadian!
They have a huge theater here, and tonight's show was "Princess Circus – Acrobatics" I think it was mostly for the women as there was buff guys doing stuff on this huge pole. I thought only women did pole dancing stuff. I guess I'm wrong.
Anyway I only lasted for about 1/3 of the show as my butt bone was to sore to sit for that long. Back to the room and off to bed. Not sure how the rest of the show went, I was asleep when Cathy got home.
More to come tomorrow.