I was up early today, 5:30 or so. Read in bed till around 7 and then got ready for breakfast. I ate in the hotel restaurant today and had a nice leisurely breakfast and 3 cups of coffee, read my book and watch the people go by. I did not finish till around 9:15 or so.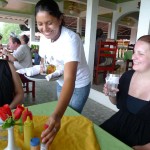 Went to the beach in front of our hotel today for the first time, had a swim and read on the beach till almost 10:30 am when I thought it best to make sure the girls were up. They were just getting ready to go for breakfast, so I joined them for something to drink and waited for the internet place to open.
Meghan went off to start her rescue diver, Carolyn went to the beach and I went to update the folks back home. Afterwards I joined Carolyn on the beach for a swim and read a bit.
When Meghan was finished her course for the day we headed over to the east side of the island to have lunch and hang at the beach for a bit. Lunch was at Elsa's. The menu was all in Spanish and we don't speak it, and they spoke very little English, so we guessed. We ended up having fried plantains with cheese and shared 2 sides of French fries. The fries were good, the plantains were ok but it was way over priced. That will be our last visit to there for lunch. ($20 for everything, which is a lot compared to what you can get elsewhere on the island)
Meghan and Carolyn hung out at the beach and I returned to my hotel to have a siesta.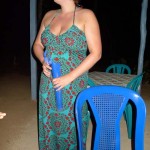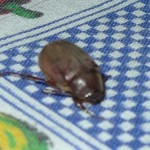 We had decided to go to Rosa's again for dinner, something about the food, people and eating in the middle of the jungle. We were just finished our salad when Carolyn screamed, jumped up from the table, and in the process broke the chair, and pointed to this (her words) HUGE bug. Ok it was big, but not that big, and it was just a beetle. Meghan picked it up and returned it to the jungle. We (Meghan and I) were killing ourselves laughing at Carolyn's expense when Rosa came out wanting to make sure Carolyn was OK. (They just heard the scream) We made apologies for breaking the chair, but they were laughing and really more concerned with Carolyn's well being than the chair. The food was excellent again and the rest of the night was uneventful.
Tomorrow Meghan does her confined water training and Carolyn and I go diving.